The honours program in Romance Studies at UBC Vancouver offers an initiation to graduate work and to advanced academic writing and research.
Honours students participate in our research seminar and, under the guidance of a supervisor, write an extended research paper on an original topic. Honours students are particularly well qualified for professional research positions.
---
Admission Requirements
Admission to the honours program in Romance Studies is not automatic. Interested students should apply for the Romance Studies honours program, normally before the end of their second year.
To enter the honours program, a student must have:
at least third-year standing, or be entering Year 3
a B+ average in their overall degree program
completed RMST 300, 301, and 302
completed one of FREN 202, ITAL 202, SPAN 202, or PORT 202, or demonstrated a proficiency level of A2 on the Common European Framework of Reference for Languages in at least one of these languages
Apply directly to the honours program using the online Advising Contact Form.
---
Degree Requirements
Students must have completed at least one of FREN 302, ITAL 302, SPAN 302, or demonstrated a proficiency level of B1 on the CEFR for Languages in one of the Romance languages by the completion of this program. Students must complete a total of 60 credits and 48 credits of which must be at 300-level or above.
Students are encouraged to consult with the FHIS Student Programs Coordinator as early in their degree program as possible for guidance in planning a course of study that will best prepare them to achieve their academic and professional goals within the field.
Program Diagram
Click on the diagram below to download the PDF.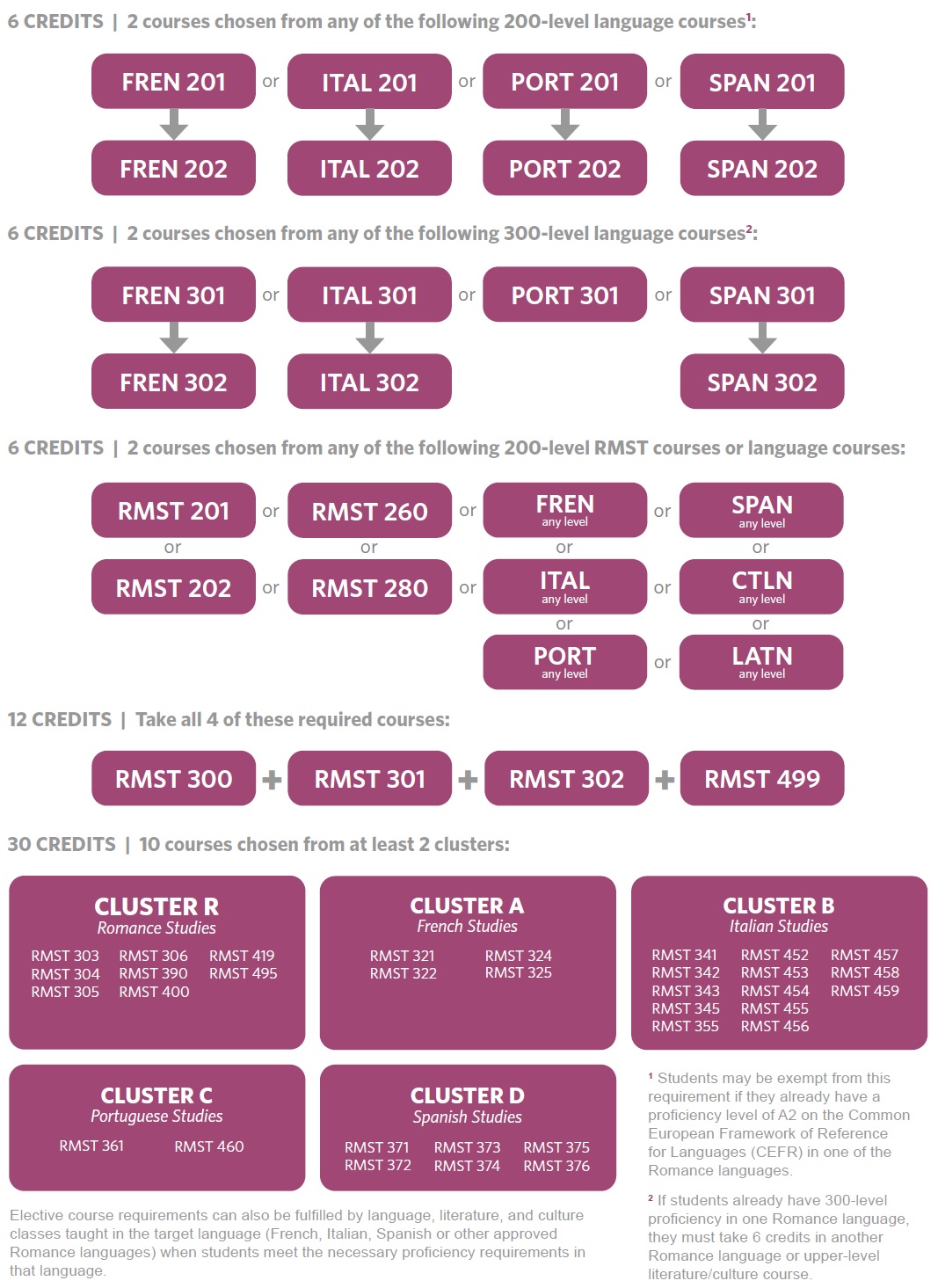 ---
Applying for an Honours
---
Course Planning