Expand your horizons and gain an appreciation for Spanish language and Hispanic literature and cultures around the world through our major and minor programs in Spanish Studies at UBC Vancouver.
From Madrid to Mexico City, Lima to Los Angeles, Spanish is the language of commerce and culture, passion and politics, options and opportunities. Your work prospects, travel plans, and ability to find your way in an increasingly interconnected world will all be enhanced with the more Spanish you learn.
UBC offers Spanish language, literature, and culture courses for students at all levels, from absolute beginners to native speakers. Students will develop linguistic competence, cultural sensitivity, and interpersonal skills to successfully achieve professional, social, and humanitarian goals in the Hispanic world.
We teach the language in the context of common tasks and situations, so that it is immediately useful and memorable. Tandem programs and community interaction enable real-world communication from the start. We also introduce you to Spanish and Latin American customs and traditions, writing and film, to enhance your cultural awareness and sense of global citizenship.
Advanced courses focus on particular aspects of language or culture, from Translation to the Latin American novel, Spanish film to questions of gender, colonialism, modernization, or separatism. From Don Quijote to "Despacito," lyric poetry to urban graffiti, Che Guevara to Pablo Picasso, we offer you new ways of seeing the world and situating yourself in it.
A major or minor in Spanish is perfect for motivated students with a passion for language, literature, and culture, who are excited by imaginative, interdisciplinary, and provocative approaches to study and life. A Spanish degree teaches you about connection, communication, and community, and fits well with a major or minor in another language, or with subjects such as Anthropology, History, Political Science, Geography, and many more.
Our graduates are equipped for any field in which connection and internationalism count: from business to law, education to development work, journalism to public relations, diplomacy to tourism.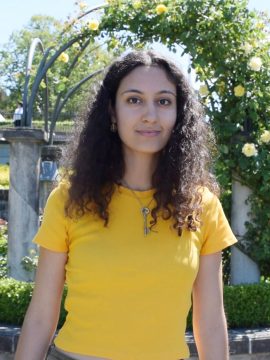 I think learning Spanish was one of the most useful hard skills that I gained from my undergrad — it opened a lot of doors for me down the line. I was able to go on exchange in Spain for a semester, and then intern at the Embassy of Canada in Chile through co-op. I've been able to bring these skills into law school as well, for I am interested in international law and human rights.
Astghik Hairapetian
BA '17
Get Involved