Expand your horizons through French, Hispanic and Italian Studies (FHIS) at UBC Vancouver. Connect with people from diverse cultures where the Romance languages are spoken, and explore the art, literature, history, and social issues that are taking place in the world around you.
The language proficiency, critical thinking skills, and heightened cultural awareness you will develop in our courses can be applied to a wide range of careers — especially (but not limited to) those in which connection and internationalism count.
French language teaching (K-12)
Education, academia, and research
Government and politics
Public service
Foreign service
Business
Human resource management
Project management
Law
Cultural and historical organizations
Humanitarian work
Non-profits
Tourism
Translation
Journalism, Radio, and Television
Public relations
You will develop transferable skills that can be applied to a wide variety of fields. These skills include:
Language proficiency
Communication skills
Critical thinking and problem solving
Cultural awareness
International and intercultural know-how
Research skills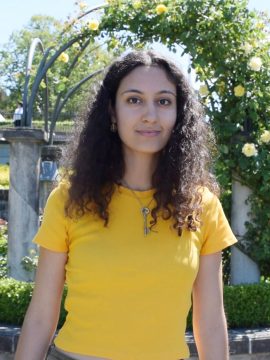 I think learning Spanish was one of the most useful hard skills that I gained out of my undergrad — it opened a lot of doors for me down the line.
Astghik Hairapetian
BA '17