UBC is a world-class university in a vibrant multicultural city, with a keen and enthusiastic team and a nurturing environment in which you can grow and learn.
The French Studies program is lively and growing, but small enough that the individual student is always our priority. The faculty is a dynamic group of established and emerging scholars with expertise ranging from Medieval French literature to 21st-century Francophone cultures.
Graduate students have the opportunity to organize and participate in research seminars, reading groups, research clusters, colloquia, and conferences organized both within the department and in interdisciplinary centres such as the UBC Public Humanities Hub, Green College, and the Peter Wall Institute for Advanced Studies.
The program hosts visiting speakers to contribute to the university's vibrant intellectual dialogue.
UBC's Koerner Library ranks among the top research libraries in North America. Its holdings in French and Québécois literature, as well as in the history of the French language and dialectology are among the best in Canada. The Rare Books and Special Collections (RBSC) houses significant collections of original books, pamphlets, and historical maps, as well as many rarities from the French colonial period in North America.
---
MA Program in French
A Master of Arts (MA) degree offers a contextualized understanding of the languages, literatures, and cultures of France, Québec, and the Francophone world. You may specialize in literature or linguistics, or propose a research program combining both fields. The coursework is designed to help you master key concepts and theoretical approaches by means of comparative analysis, and to help you explore possible fields for subsequent investigation.
Graduate seminars are normally conducted in French. Course offerings vary from year to year, as they are related to the active research projects of program faculty. You have the option to pursue a topic in more detail and depth by writing an 80-page MA thesis.
---
PhD Program in French
A Doctor of Philosophy (PhD) degree involves advanced training and research that usually leads to a career in academia, though it can also lead to jobs in areas such as high-level administration, policy, or communications.
PhD students are guaranteed funding and are involved in the life of the program as paid teaching assistants or research assistants, as well as having access to grants for conference and research travel.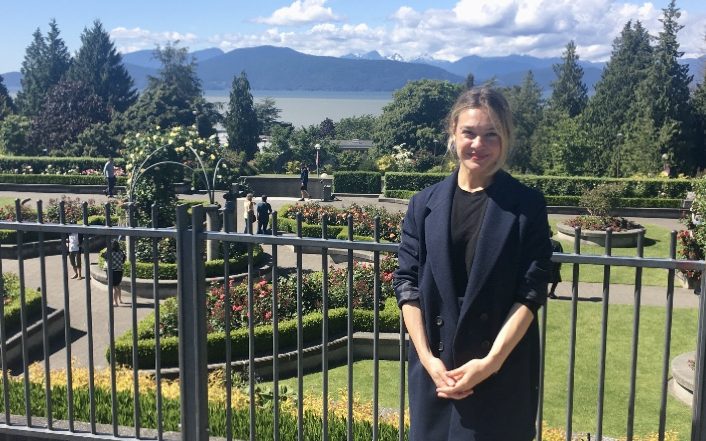 I have been given so many opportunities to develop my teaching skills, to be actively involved in the wider community and in the local French-speaking community, to be a part of conference organizing committees and to present my research in forums and in conferences. UBC is a particularly vibrant university and there are countless opportunities to learn and to evolve.
Liza Bolen
PhD in French Studies, 2020
---
Get Involved