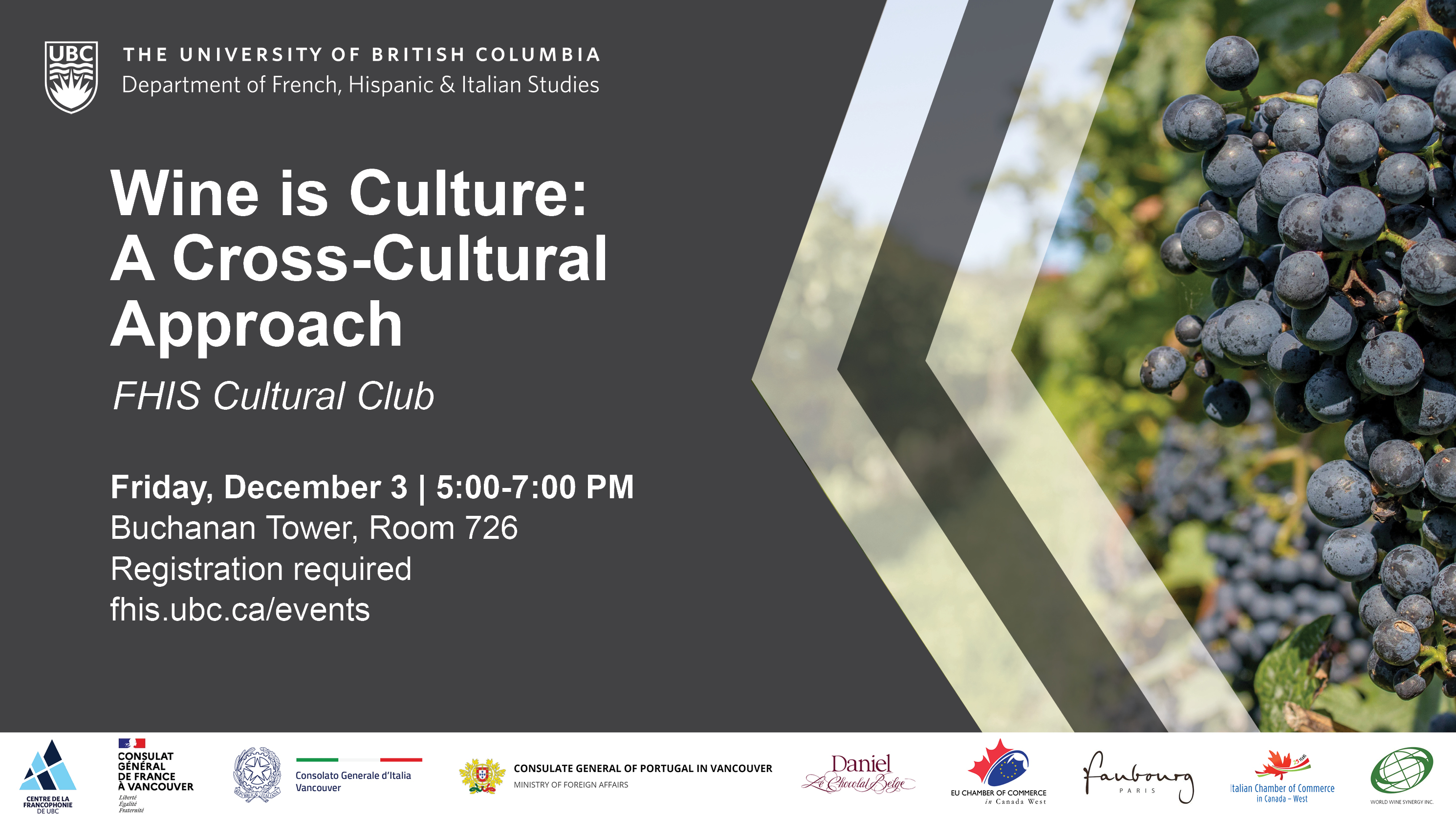 This event has been re-scheduled to December 3, 2021.
What do French/Francophone, Hispanic, Italian, and Portuguese/Lusophone cultures have in common? Their love for wine, of course!
The Department of French, Hispanic and Italian Studies (FHIS) invites you to a cultural education evening to learn how to taste wine from numerous regions related to the subjects taught at FHIS. The event will be led by faculty members of FHIS as part of the "FHIS Cultural Club", with a sommelière (professional wine expert) present.
You will have the opportunity to:
Learn the cultural similarities and differences surrounding the "culture of wine", along with the grape processing system used in each of the four cultures (French, Spanish, Italian and Portuguese).

 

Taste the wines to gain firsthand experience and appreciation of their complexity (two rounds of 'nose-tasting' and one round of 'mouth-tasting').

Complete handouts that guide you to express your tasting experience with specific wine tasting lexicon. The handouts will be provided in English and in all languages represented. 
About the sommelière wine expert:
Élise Trébuchon is from the south of France (Béziers). She got her diploma of sommelière in France (Lyon) and is now located in the Okanagan Valley, where she does Wine Tasting events and Wine/Food pairing events ("Yellow Just Yellow" in August 2021; "Purple Just Purple" in October 2021). 
Email: e.trebuchon@gmail.com 
Instagram: https://www.instagram.com/elise.trebuchon/?hl=fr 
Important house rules:
Attendees must not drink to the point of intoxication, as this is a Teaching and Learning event intending to educate about wine tasting, not wine drinking (this is not a drinking event).
This event is only open to UBC students currently enrolled in Winter Term 1 courses.
This event is only open to students who are of the legal drinking age (19+).
Two pieces of ID are mandatory for entry (view the list of accepted IDs).
Pre-registration is required to attend.
Attendees must ensure that they have a safe way to get home after the event (or must inform the event organizers if they need assistance).
---
Registration Form:
The maximum number of attendees has been reached.
Waitlist: If you would like to sign up for the waitlist, please complete this form. We will contact you if a space becomes available.
---
Sponsors: