Undergraduate student Thao Atkinson shares about embracing vulnerability, adapting the Italian mindset, and supporting her career goals through the Go Global study abroad program in Venice, Italy.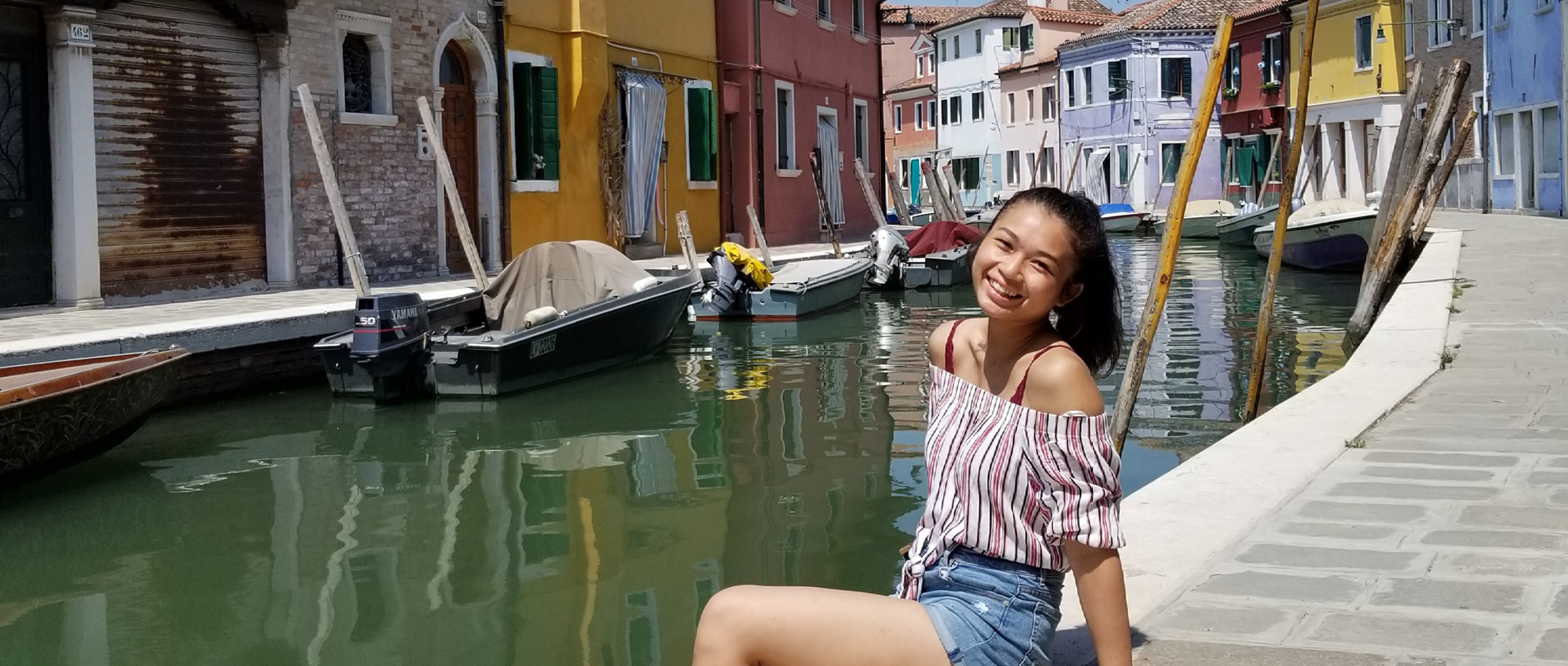 "Studying in Italy was the best decision I have ever made in my undergraduate experience."
Thao Atkinson
Undergraduate Student of Italian
I grew up in a small town in Canada for most of my life and never had an opportunity to travel because of the costs. Because of this, I was only exposed to Canadian/North American cultures and perspectives. I wanted to take advantage of the opportunity to integrate studying with traveling in order to better understand different cultures and bring that knowledge back into my classroom and workplace. I am majoring in Human Resource Management and minoring in Law and Society, so having cultural sensitivity is an important competency for managing different groups.
The Italian Mindset
What I loved most about Italian culture was their mindset of enjoying life. In Canada, the majority of us are so concerned about the future — where we're heading, our careers, etc. The locals in Venice were much more relaxed; every Italian I met was so joyful, and the Italian friends I made often took advantage of the beaches to unwind.
Even months after the exchange, when I catch myself being so consumed by worries, I remind myself to live like an Italian: free.
One of the best parts about exploring Venice was meeting other students from different schools alongside the Italian tutors, whom we had become best friends with. We'd often explore the nightlife and meet other students who taught us about their culture, slang, and body movements, which actually meant something; I learned that Italians spoke with their bodies as well. Going out was a highlight, because I was able to meet new people and bond with the other students in my program, who are now my lifelong friends.
Learning a New Language
I learned that immersing yourself in the unknown will make you feel vulnerable, but you have to dive in and have fun with learning a new language.
Language is the stepping stone to fully understanding the culture. If I hadn't learned basic Italian, my experience would have been much different. I wouldn't have been able to select more respectful words or be able to communicate with the locals to learn more about them.
Choosing to go on exchange tested my ability to adapt and I realized that learning is hard, but rewarding at the same time. I made a lot of mistakes — like saying 'bathroom' instead of 'let's go' — but it was fun! I was surprised by how my brain went into "survival mode" when speaking Italian.
Learning a new language can be difficult for some people but easier for others. Be ready to fully let yourself feel uncomfortable, vulnerable and excited when learning a new language. Take every opportunity to speak the language even if others are trying to accommodate you. Learning the language is such an integral piece of understanding another culture.
Traveling
Overall, traveling abroad enlightened my knowledge about different cultures, food, history, languages and myself.
The best part of the program was that travel excursions were already planned out for us, so we were able to see Italy through the lens of a local – which is the best way to find hidden gems and restaurants I may not have otherwise known if I'd planned the trip on my own. Some places we went to were Palace Ducale, churches, the museums, Burano and Murano, Lido beach, Padua, a gondola ride, boat racing and so much more!
Another highlight was the art and history of Italy. There is an abundance of rich history in the art and buildings that are respected and preserved till this day. Palace Ducale was used many years ago, so to be able to still walk through the prisons and the palace rulers once stepped foot on was an indescribable feeling.
My favourite class excursion was to Burano, where all of the buildings are painted in different colours. Burano is so beautiful and unlike anything you will ever see in Canada. We also had time to go on our own excursions, so I went to Florence with some of the other girls in my group!
Going through this experience was better than I thought it would be. I came out of the exchange with memories I will never forget and lifelong friends I did not know I would make. Studying abroad was one of the best decisions I had ever made.