A Global Seminar offers course-based, experiential, hands-on learning in an international setting, adding insight and experience not available in a lecture hall. By taking a UBC course led by a faculty member with a small group of students, you can develop stronger connections to the course material and the professor.
Application deadline: December 5, 2023
---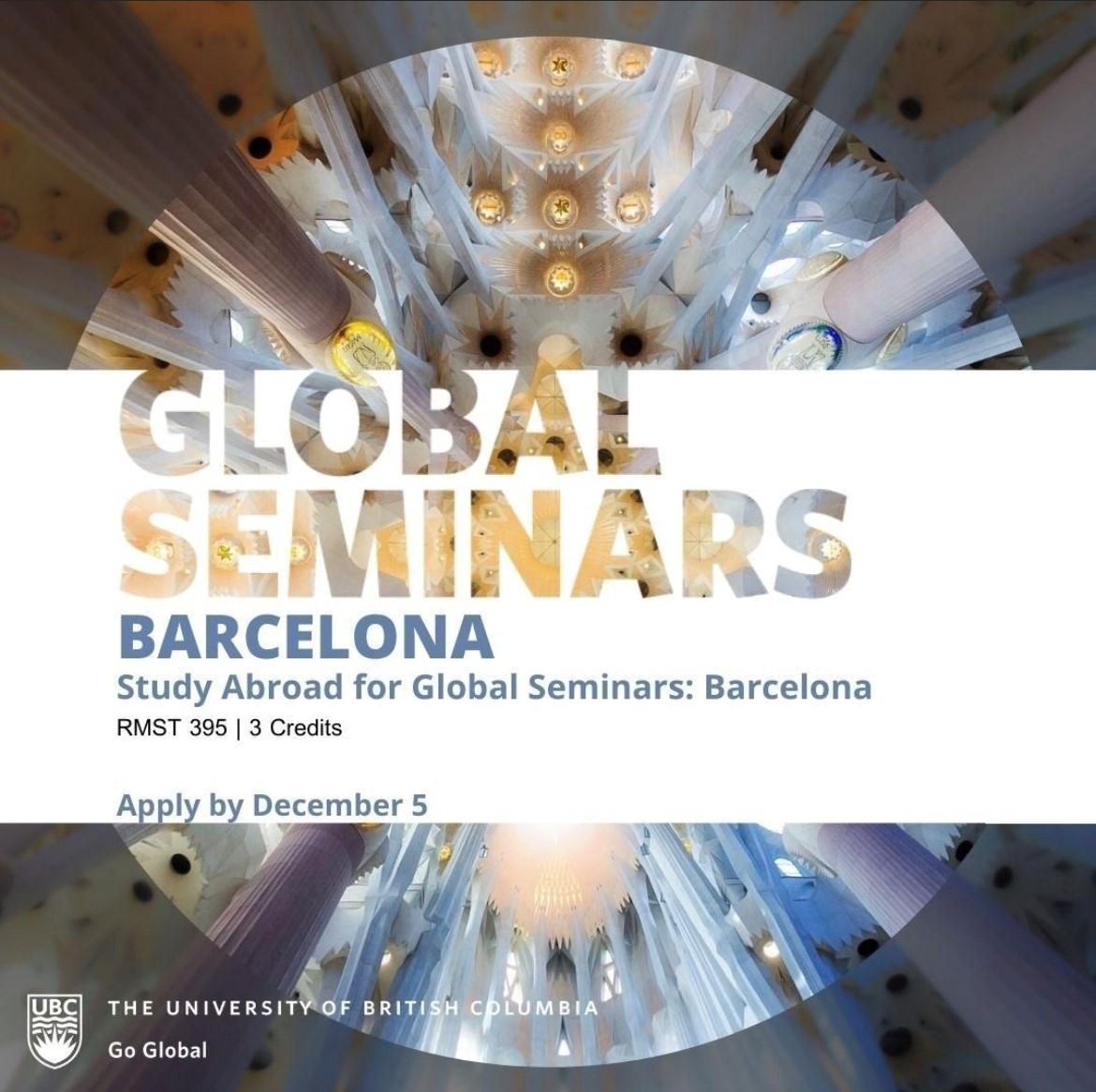 Barcelona, Spain
RMST 395: Memory and Modernity (3 credits)
Instructor: Anna Casas Aguilar
Language of instruction: English
This course provides students with a unique opportunity to dive into the modern experience of one of the world's most compelling cities while also reflecting into two central themes –memory and modernity– that have shaped the city. This course considers Barcelona from a cultural studies perspective that includes the study of its literature, visual arts, cinema, architecture, urbanism, and responses to mass tourism.
Apply by December 5, 2023.
---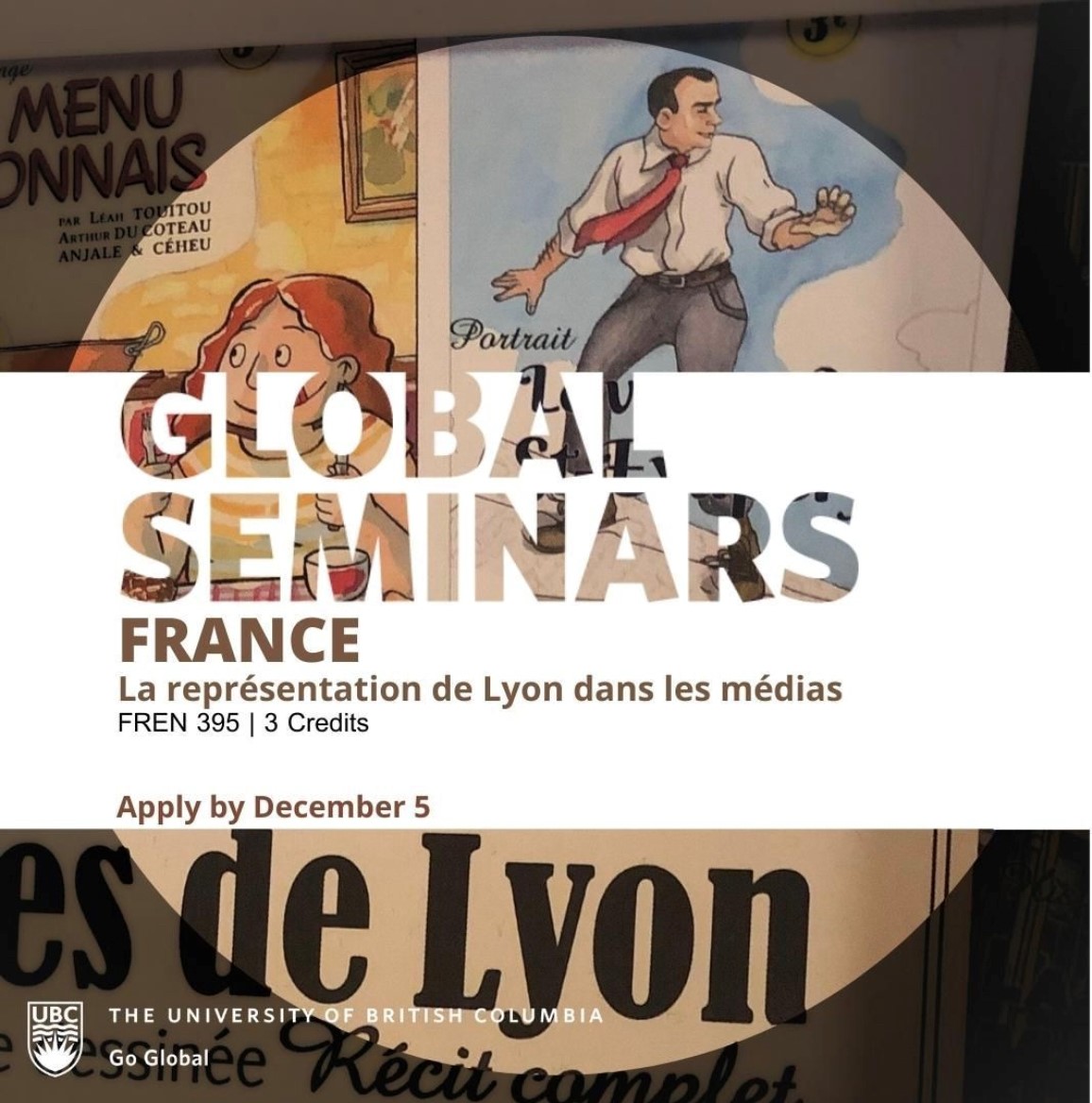 Lyon, France
FREN 395: La représentation de Lyon dans les médias (3 credits)
Instructor: Caroline Lebrec
Language of instruction: French
Offered in French, this course explores the vibrant literary culture of Lyon, through visits, museums and documents such as novels, comics and movies. Why Lyon? Lyon is the capital of many things. It used to be the French capital during the Roman Empire (Lugdunum) and the European capital of the silk industry (les Canuts). Its traboules defeated the nazis during the Occupation. It is the world capital of gastronomy since 1935. More recently, it has been elected « French capital of biodiversity » in 2019. "Lyon Capitale" is also the name of a local newspaper, a local radio, and a local TV channel. This course will expose students to the many sides of Lyon capital (gastronomy, biodiversity, industry, ideology, literary) and of Lyon heritage (UNESCO heritage since 1998) in order to answer the question: What made and makes Lyon a vibrant topic across media and across the age? French author and Lyon expert Paul Fournel will lead the creative writing workshop embedded in this course.
Students are encouraged to also enroll in the Lyon II CIEF language program starting in June after this program.
Apply by December 5, 2023.
Highlight video from the last Global Seminar in Lyon:
Thursday, October 26 | 3-4 pm | Zoom | RSVP here
---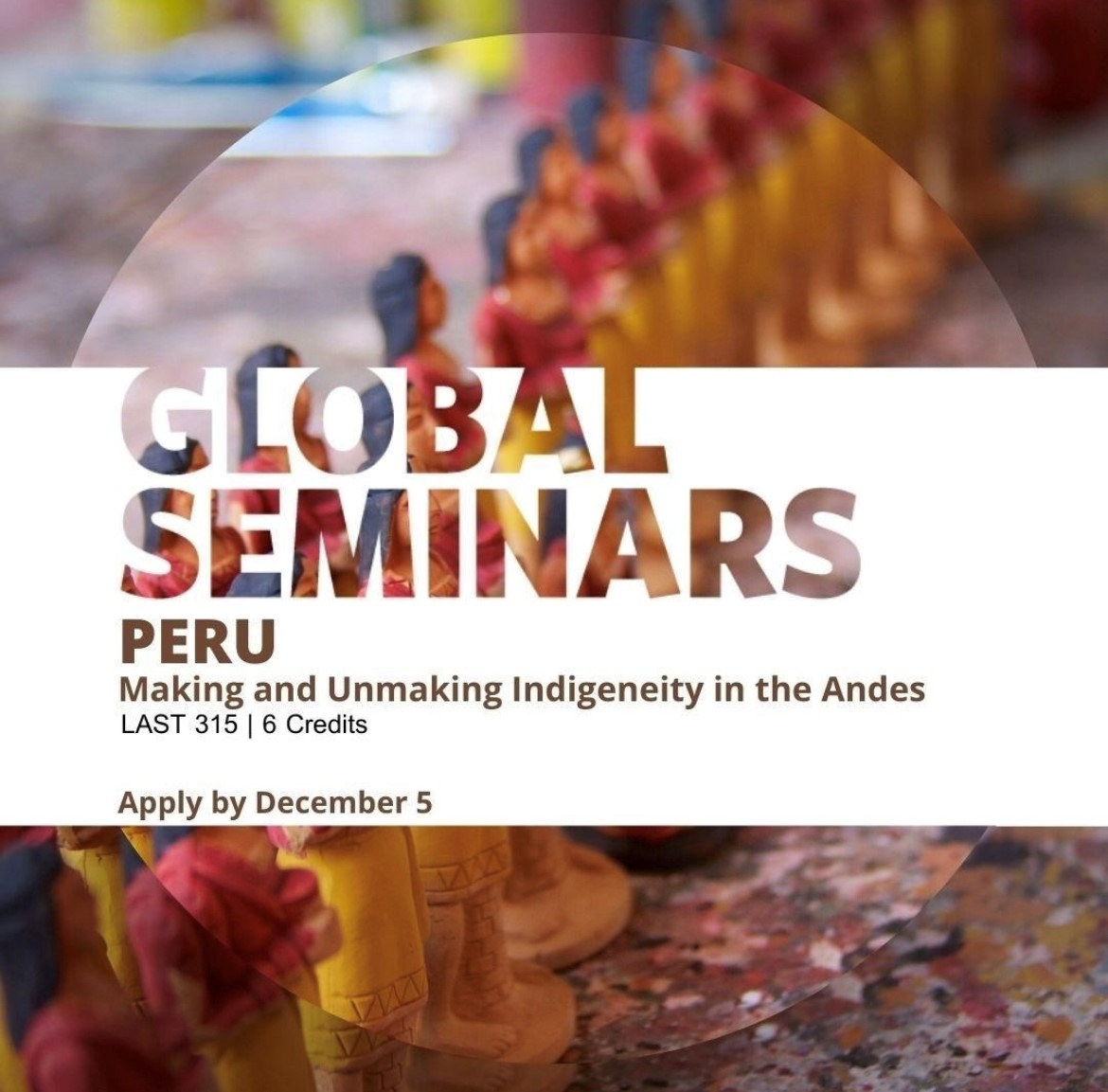 Peru (Lima, Cusco, Pisac)
LAST 315: Making and Unmaking Indigeneity in the Andes (6 credits)
Instructor: Jon Beasley-Murray
Language of instruction: English
This course will trace the construction and reconstruction, negotiation and reinvention, production and consumption of Indigeneity in the Andes, with a focus on Peru and the "Sacred Valley" between Cusco and Machu Picchu, from precolonial times to the present.
We will read and discuss key texts written by and about Peru's Indigenous people. These range from early seventeenth-century accounts of Inca civilization and the Spanish conquest, written from an Indigenous point of view, to novels and testimonies associated with twentieth-century indigenismo, to contemporary scholarly accounts of insurgency, politics, culture, and tourism in the Andes.
After orientation in Lima, our base will be Pisac, originally established as a colonial reducción, twenty miles from the former Inca capital of Cusco, where we will be staying in a refurbished mansion (built in 1832 and just two blocks from the town's main square). From here, we will investigate the local ecosystem and cultural networks, from nearby Indigenous communities and their land management practices to markets, handicraft production, and the booming tourism industry in the towns lining the Sacred Valley.
Periodically, we will undertake field trips further afield, such as to the former Inca citadel, Machu Picchu, the so-called "lost city of the Incas" allegedly "discovered" by U.S. historian Hiram Bingham in 1911, and now Peru's most emblematic tourist destination.
The program's climax will be attendance at Cusco's most important festival, Inti Raymi or the "festival of the sun," which has been held at the nearby ruins of Sacsayhuamán since its reinvention by indigenista intellectuals in the 1940s. Such inventions and reinventions will be the object of study and reflection over the course of our month in highland Peru, as we consider the various incarnations of Indigeneity over time, whose persistent legacies will be apparent in our everyday encounters and travels through the region.
Apply by December 5, 2023.
Wednesday, October 30 | 1:30-2:30 pm | LIFE Building Rm. 1505 | RSVP here
---
Questions?
Contact the Go Global office here.