Pooja Booluck-Miller, PhD student of French Studies, shares about her research on migration and trauma in francophone literature, in addition to her graduate student experience at UBC.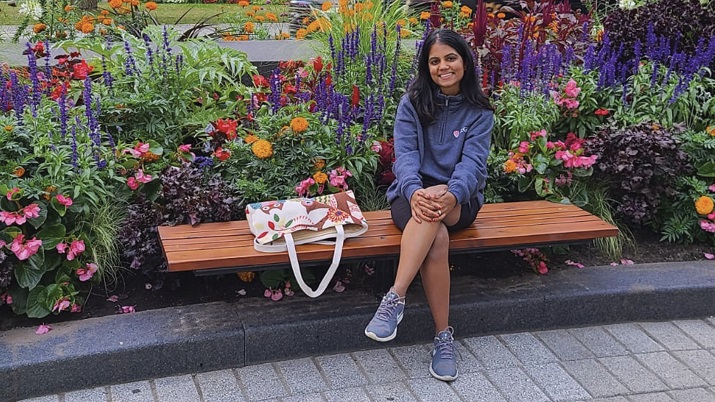 Part 1: Research
"My thesis explores the interplay of trauma studies and psychoanalysis in migration literature."
Pooja Booluck-Miller
PhD Student of French Studies
My thesis, titled "Migration and Trauma: Africa, Caribbean Islands, Indian Ocean", explores the interplay of trauma studies and psychoanalysis in migration literature. It studies how female authors, through the mimetic function of representation, use the individual experiences of characters to reveal the lived reality of migration trauma. Drawing on theories such as Michel Foucault's 'Heterotopia' and Dori Laub's contributions on individual and collective trauma, it demonstrates how the notion of "third space" and "in-betweenness" exacerbates the traumatic pain experienced by migrants and, subsequently, future generations.
Being an immigrant myself, I have always been curious about others' stories and findings about migration. I was drawn to the topic due to my family's struggle to cope with the language barrier and culture shock in Canada. At a very young age, I strived to see, through fiction, if our experience was relatable to the migrant population around the world. I resorted to literature because it was uncommon back then for people to be transparent about their hardships in the host country; it was even considered taboo and a sign of vulnerability. I discovered several authors who shared the same difficulties as I did, which thus developed a sense of familiarity and relatedness.
I was pleasantly surprised but honored and grateful to have received the prestigious SSHRC Doctoral Award award! Winning the award this year was an acknowledgment that my research is impactful to our society.
"African and Caribbean books have valued the art of oral storytelling to work through eons of intergenerational sufferings."
Pooja Booluck-Miller
I also have a strong interest in learning and questioning how trauma affects individuals who have not experienced trauma firsthand, but somehow relive the sufferings of past generations. In one of the texts, I note a character's display of traumatic symptoms caused by their ancestors' exile. It goes to show how intergenerational trauma is impactful and succeeds at shaping one's life.
The literature review has not only shown that trauma is intergenerational, but can also produce symptoms that are comparable to firsthand 'victims'. Whether it entails hallucinations or psychological impairments, it implies that trauma is a contagious ailment if not dealt with. I am curious to see how my research surrounding recovery and survival addresses this topic. So far, the literary representations by African and Caribbean books have valued the art of oral storytelling to work through eons of sufferings.
One of my chapters talks about the role of violence in migration. While physical and emotional violence are widely studied across the field, symbolic violence is not. I use Pierre Bourdieu's theoretical framework on symbolic violence to reveal how migrants are subjugated to an unconscious agreement in the power differential between social groups. Bourdieu brings into perspective the social disparity that exists in relation to opportunities that society presents (unconsciously and consciously) to local citizens as opposed to migrants. It is important to bring to light this differential treatment between groups and to further discuss options and solutions to resolve this underlying issue.
---
Part 2: Graduate Student Experience
"Graduate school is an avenue that allows individuals to think freely by (un)learning doctrines that govern the world. If you want to further your knowledge in a field that sparks your interest, go for it! You will also gain tools such as critical thinking throughout your journey."
Pooja Booluck-Miller
Why graduate school:
I have always considered myself to be an avid learner. The world being majorly digital nowadays, I believe in the importance of finding the right avenue to advance one's knowledge. Since I wanted to find my own voice in migration, going to graduate school was the right choice. It has enabled me to not only speak my mind through extensive research, but to also learn a lot through scholarly discussion.
I am one of the few graduate students who have completed their undergraduate and master's degree at the same university as their doctoral's. UBC has always been my second home and I never once regretted this decision. It is not only home to well-renowned scholars, but it also gives innumerable opportunities to its students. I was able to teach classes as a teaching assistant, be part of international conferences, and work with distinguished professors throughout my journey.
Graduate supervision:
My graduate supervisor is Dr. Gloria Onyeoziri-Miller. I have known her for over ten years now. She has greatly influenced me not only as an early career researcher, but also as a person. Her patience, diligence, professionalism, and drive are admirable.
I have also gained insight and knowledge from Dr. André Lamontagne, Dr. Robert Miller, and Dr. Nancy Frelick. I am very grateful for their continuous support and mentorship.
Career goals:
After my doctoral degree, I want to be a Professor in French and Francophone Studies. My goal is to share the knowledge I have gained throughout my career with future generations while also learning from them. I would also like to continue pursuing my research endeavors because I truly believe that learning is a lifelong process.
Advice:
If I were to give one last piece of advice to my colleagues or graduate students in general, it would be to find a balance between work and other life activities. Juggling commitments during a pandemic has shown me the importance of purposeful rest and being present. This, in turn, has prevented me from burnout, which is common in academia.
---
Learn more
Pooja Booluck-Miller's Links:
Graduate Studies Program in French or Hispanic Studies: