Gabrielle Ehling, a Biology Major and student of Italian 401: Advanced Studies in Italian Language and Style, demonstrates how learning new languages and cultures can benefit anyone with a passion for traveling, global affairs, and foreign language films and books.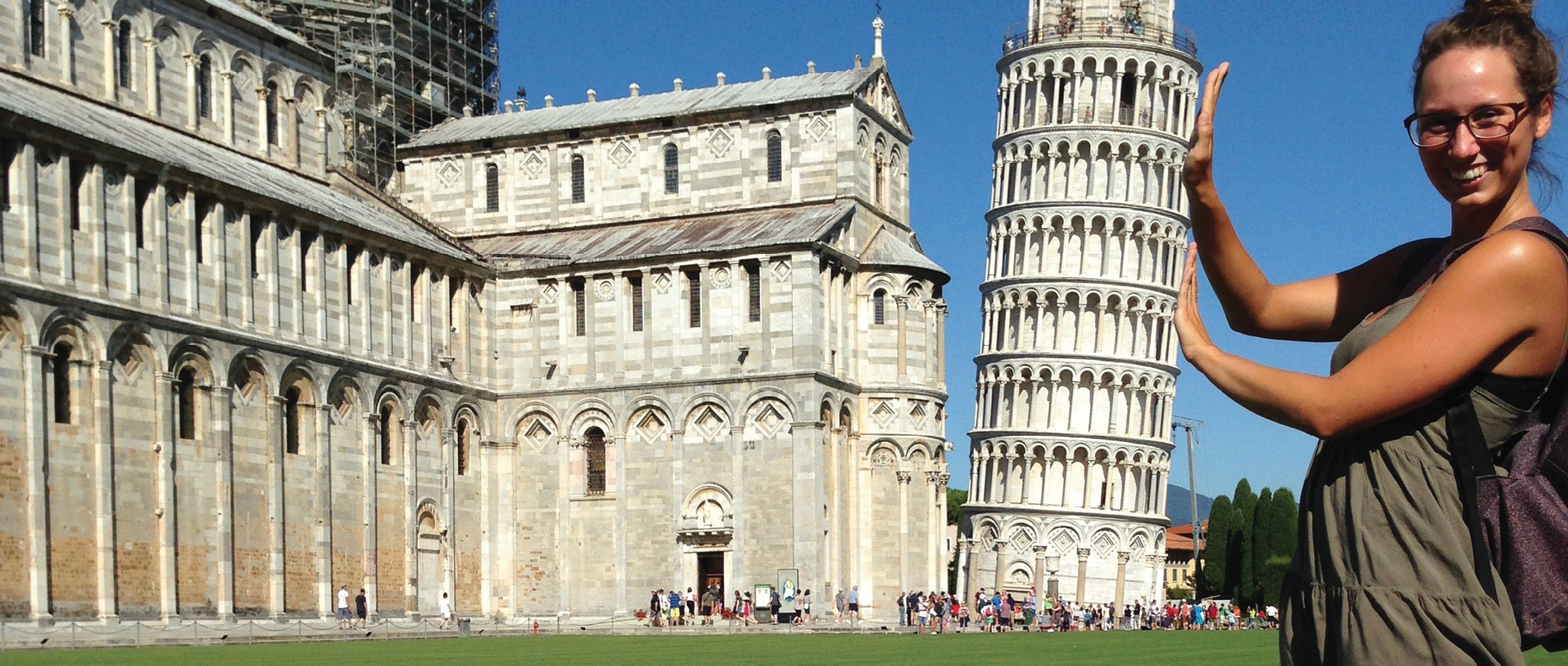 "Taking Italian classes at UBC was one of the best decisions of my undergrad. "
Gabrielle Ehling
Student of Italian, Biology Major
Why did you study Italian?
I was motivated to study Italian after I decided to start my first year at UBC in January instead of September. During this semester off, I worked as an Au Pair in Milan, Italy and began taking language courses in my spare time. I grew an appreciation and fascination with the language and culture.
When I returned to Vancouver, I knew right away that I wanted to continue improving my Italian. I wanted to eventually return to Italy for work or travel (which I have), and wanted to be able to immerse myself and communicate properly when I did.
What are the benefits of learning a new language?
The benefits of learning a new language are endless. For one, it challenges you in a way that you cannot help but grow from. It can be uncomfortable at first to be placed in situations where you are not able to communicate or understand, but once you start to get a handle of the language, there is such a feeling of accomplishment.
You can also best understand other cultures when speaking that country's language. If someone enjoys travelling, watching international films, reading foreign language books, or overall keeping up to date with global affairs, then learning a new language is a great way to take that interest and passion to the next level. It is also very beneficial for you cognitively.
What are your favourite aspects of UBC's Italian classes?
"These classes were truly the best and most enjoyable of my degree."
Gabrielle Ehling
All of the professors have been wonderful, caring, and approachable. I was able to thrive academically from the structure of the classes and the amazing professors. I loved the small class sizes, the various events that allowed us to practice our oral and listening skills, and the variation in how content was presented to us. I enjoyed how we learned through both traditional and non-traditional methods. For example, in ITAL 401, we were assigned various Italian movies to watch and then write about. It was both challenging and fun!
Luisa Canuto was my professor for multiple years, and she fully demonstrated how much this department cares about us learning and understanding the culture and language, as well as being equipped to further our learning even after the class is finished.
What advice would you give for learning a new language?
"Once you start to get momentum, you will be surprised with how naturally your brain can wrap about the language."
Gabrielle Ehling
When I first began learning Italian, it was nerve-wracking. I had no experience with the language and had difficulty with the pronunciation. I also remember feeling like I was "hitting a wall" in my learning every few months. This can feel intimidating sometimes, but as with every new subject you decide to learn, you have to keep pushing yourself. It helped immensely to be able to learn alongside your classmates, who are all feeling the same way.
I overcame these hurdles by allowing myself to make mistakes, practicing the language even if I did not have actual homework, going to office hours, and trying to find places outside of class to utilize what I had learned. For example, UBC has clubs for students that speak Italian (whether your mother-tongue is Italian or you are just learning). Once you start to get momentum, you will be surprised with how naturally your brain can wrap about the language.
I would also recommend being creative with how you learn the language. For example, find YouTube channels based in your target language, shows on Netflix that you can watch with subtitles in the target language, or even podcasts. Doing this helped me with listening comprehension, but also just enjoying the learning process. It is a great feeling when you can watch an entire movie in a foreign language and realize you understood it all!
What would you say to those who are curious, but intimidated, to learn a new language?
"It helps to be in a safe learning environment such as the ones created within UBC's Department of French, Hispanic and Italian Studies."
Gabrielle Ehling
Just give it a try. If you are feeling unsure about whether to begin learning another language, I would even recommend sending an email or going to speak to the professor of the class you may be interested in taking! If you are fully new to the language, taking a 100-level class is a great idea. Not only will you get an introduction to the language, but the courses are overall manageable and provide a different style of learning than other university courses.
Remember that everyone learning a new language faces various obstacles, but it helps to be in a safe learning environment such as the ones created within UBC's Department of French, Hispanic and Italian Studies.
---
Interested in learning Italian language, literature and culture?