As the Visiting Lettore of Italian appointed by the Italian Ministry of Foreign Affairs, Elena Zampieri talks about how you can learn more about Italian language and culture at UBC and Vancouver.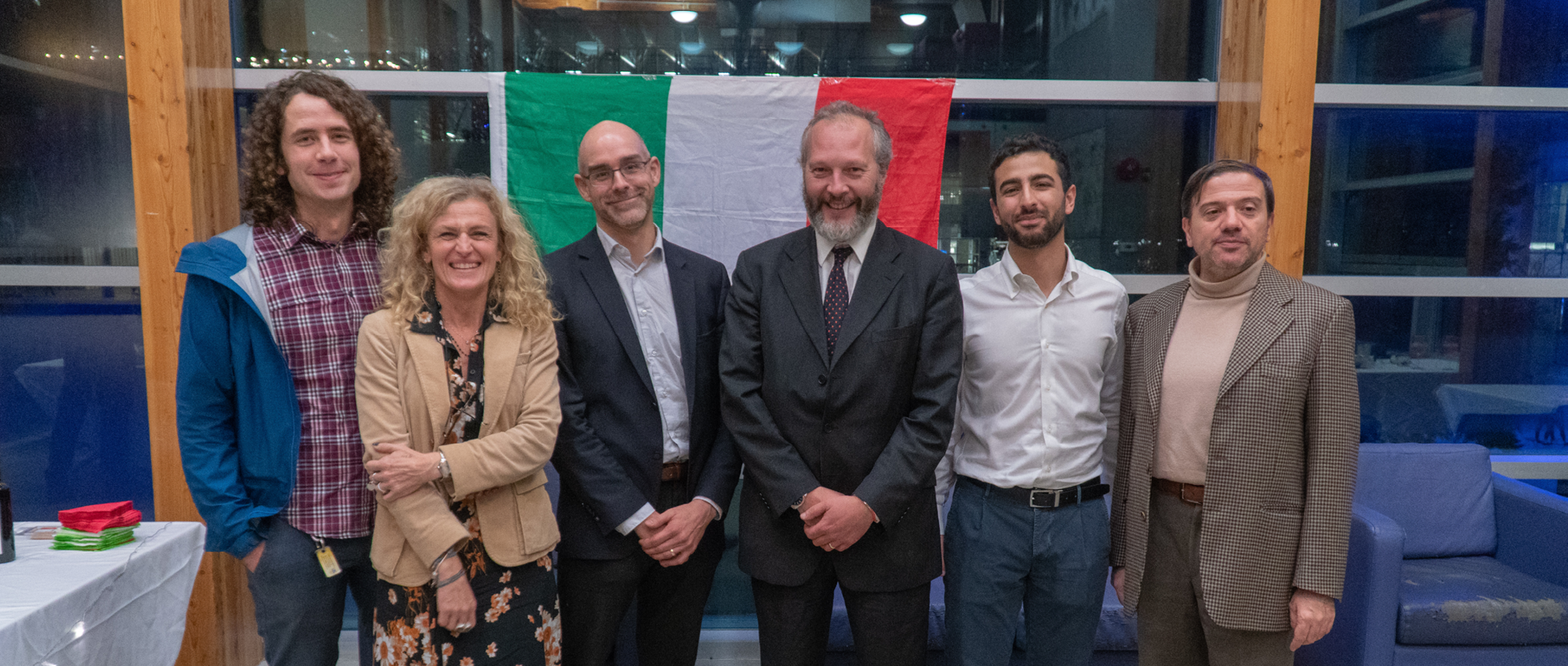 "Learning about new cultures can be fun. Whenever we experience something new, it is thrilling and exciting; it breaks our usual patterns of thinking and triggers curiosity."
Elena Zampieri
Visiting Lecturer, Italian Studies
Why is it important to learn about new cultures?
Learning about new cultures can be fun. Whenever we experience something new, it is thrilling and exciting; it brings joy into one's life because it breaks our usual patterns of thinking and triggers curiosity.
On the other hand, it can also be very scary. In fact, it compels us to question our own ideas about how we do things, how we approach everyday life, which are conditioned by our own culture. But this is a good kind of fear, because it will expand our perspectives, making us more keen to respect and understand the complexity of the world surrounding us.
Learning a foreign language is one of the most important means through which we can learn about new cultures. This is the key to developing an open, flexible, accepting and happy mind; it is the key to a better world.
What aspects of Italian culture are particularly fascinating?
Our passion for art and aesthetic beauty is a great part of the Italian character. The interesting thing about this is that it comes with the landscape of the country.
In Italy, we do not necessarily need to include art history in our school programs because it goes with being raised on a land where you stumble upon medieval pebbles, historical buildings and frescoes as you walk to school. Entire cities are open-air museums!
As a kid, you learn to recognize, acknowledge and make use of this artistic beauty. It becomes something that soothes and comforts you. This is possibly why Italians like to add artistic flavour to everything they do, including cooking! Learning about the healing power of art in the Italian lifestyle could open up new perspectives on this culture.
How can people experience Italian culture?
UBC:
Attend Italian events organized jointly by FHIS and ITASA, as advertised on the FHIS website! Also make sure to 'like' the Facebook pages of FHIS and ITASA for regular updates.
Vancouver:
Besides visiting the many authentic Italian restaurants and shops on Commercial Drive, everything "Italian" happening in town is always advertised by the Consulate General of Italy in Vancouver. Simply subscribe to their newsletter by emailing vancouver.cultural@esteri.it or visiting their website to know if there are any artists performing, exhibitions coming up or conferences being hosted (e.g. ARPICO by the Society of Italian Researchers and Professionals in Western Canada). You will also find a lot of activities by browsing the Facebook page of The Italian Cultural Centre or the website of the Dante Alighieri Society of BC.
Finally, I believe this particular TED Talk on the latest evolution of the Italian language connects Vancouver to Italy. Turn on the subtitles and enjoy!
Describe your role as Visiting Lettore of Italian.
The role of the Visiting Lettore of Italian at the university level is considered one of the most important ones for the diffusion of the Italian language and culture in the world.
A Lettore is expected to not only teach the Italian language and culture beyond common stereotypes in a variety of courses, but to actively promote the language and culture within the academic institution where he/she is working.
For example, during the Week of the Italian Language all over the world, the Lettore is asked to arrange the Giornata del Lettore, where students join him/her in exploring a theme suggested by the Italian Government. This year, Lettore's Day was celebrated on October 25th with the theme of "Italian on the Stage." Special guest and award-winning novelist from Italy, Helena Janeczek, was present.
My role as the Lettore also goes beyond classroom walls, with a lot of time spent bringing the Italian culture to campus. I work daily to create opportunities for Italian cultural events at UBC in collaboration with the Department of French, Hispanic and Italian Studies (FHIS), the Italian Student Association (ITASA) and the Undergraduate Student Association. Beyond on-campus opportunities, I also bring information about Italian cultural events in and around Vancouver thanks to the help of the Italian Chamber of Commerce in Canada West and the Consulate General of Italy in Vancouver.
The Consulate General, in particular, is the pulsing heart that brings Italian culture to the people of Vancouver. It is how the Italian government supports my work on campus. They make sure that UBC students of Italian can dive into the language and meet Italian native and heritage speakers through their events throughout Vancouver.
Finally, the Lettore also supports UBC students with accessing opportunities to study in Italy. For this purpose, my office is always open to students needing help or simply seeking information on how to get grants or study abroad in Italy.
What has your experience been like at UBC?
My experience at UBC has been awesome from the start. I love the campus and the campus life, which are so different from whatever I had known before. Although Italian universities offer very similar courses, the most striking difference for me are the campus and campus life, since there is nothing like this in Italy.
Italian universities' buildings are usually scattered around a city and dorms are not very common. So besides travelling from one building to another during the day, it is also not easy for students, faculty and staff to share everyday life as they do at UBC. As a result, the Italian system does not allow the same degree of closeness between students and professors, which is something I believe to be highly valuable and also enjoyable.
The FHIS Department has become like a family to me. I spend most of my day with colleagues and staff, who are always ready to support me and cheer me up with a smile.
Besides that, I have been given plenty of opportunities to learn and grow professionally, which I am really grateful for. I enjoy every single minute of my classes with our young, highly driven, curious and diverse community of students. Both the FHIS Department and the students at UBC allow me to fulfill my main role as a Visiting Lettore, which is to support and promote the learning of Italian language abroad and to motivate people to take up the language and love it!
Learn more about Elena Zampieri.